The Video Rank Tracking tool is vital for marketers to track the performance of their Video SEO on their own videos or any other videos including competitors. Gain valuable insights of not only your position in search results but also keyword search volume and estimated views.
What are YouTube rankings?
YouTube rankings refer to the position of videos in the YouTube result page.
YouTube is the 2nd largest search engine in the world. The primary context of usage on YouTube is search. People search for every imaginable topic and the search results page is the battleground for marketers vying for the top spot (1st page of results). YouTube videos also appear in Google search results (depending on the search query) and of course in Google video search results too.
This search for "best red wine" on YouTube shows the top result from Marc Supsic's Wine Living channel of a video posted 3 years ago: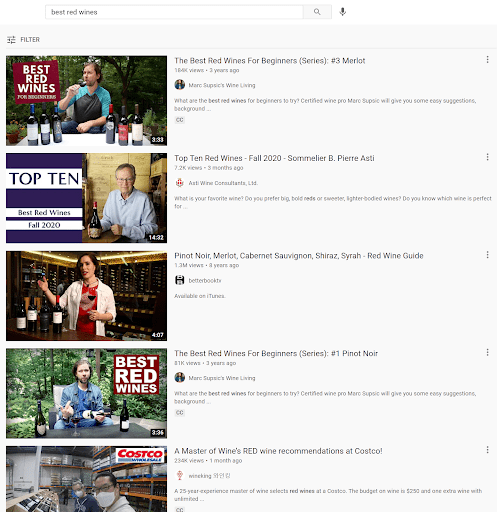 This is what makes YouTube so unique. Content lifespans are so much longer on YouTube compared with all other social channels. Even the 3rd result was published 8 years ago. It's worth remembering that while YouTube videos have the potential to appear in Google search results, performing the exact same query on Google Videos yields very different results. That #1 video on YouTube is now in #6 spot: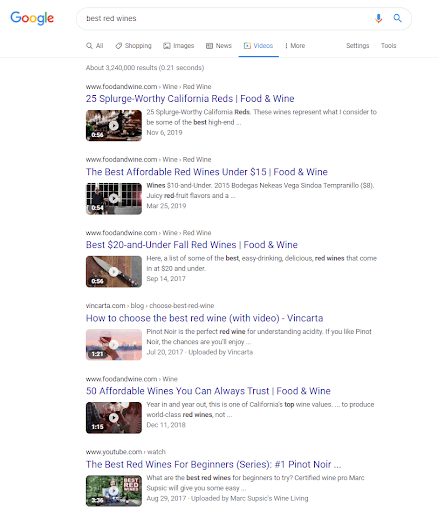 This is because YouTube and Google's search algorithms both work differently. The former is focused on YouTube videos exclusively while the later is trying to find the best videos where-ever they are located (including video embedded on websites via Vimeo or in bespoke media players). In the example above, Google Videos has decided that web pages with embedded videos on foodandwine.com and vincarta.com are more relevant to the search term than Marc's stand-alone video.
Why should you track rankings?
To continue the above example a little further, the position of Marc's "Best Red Wines For Beginners" video in search results will really impact the number of views he achieves.
We know from numerous studies that over 25% of people click the first result when presented with search results. Beyond the first few results, click-through rates drop rapidly. Any upward movement you can make to your video rankings could make the difference between a video that no one watches to a video achieving lots of views.
The real reason why you should track your rankings is that when you check where you video ranks, that is only true at the current moment. If you check tomorrow, next week, next month, it will likely be different. As search algorithms are constantly evolving, so too are the results they surface up. Your position in search has the biggest impact of the success of your video. Being high on the first page of results will lead to potentially thousands of views (depending on the search term of course).
What does the Rank Tracker tool do?
The YouTube Rank Tracker lets you track the search position of any YouTube videos. These can be your videos or competitor videos. For example, take this video from Food For Net about the 10 Best Red Wines for White Wine Drinkers: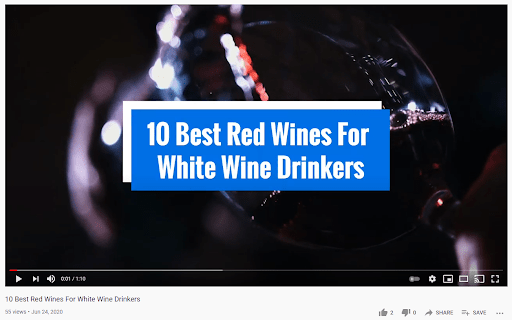 It was published a while ago and has low view and engagement counts. To track this video we paste the Video URL into the tool along with the keyword or keyphrase we want to search for. In this case "best red wines":

Then we can see the following results:

Position: this relates to the position of the video in search results is 622 which means its so far down the results page (approx page 31 given each 'page load' of results loads 20 videos at a time) that it really can't rely currently on organic search results for the "best red wines'' term. Instead it needs to rely on longer tail search terms.
Food For Net can definitely improve their Video SEO on this particular video for the term "best red wines" by optimizing the Video Description, Tags and HashTags. As you can see, it currently has no description (other than a URL)!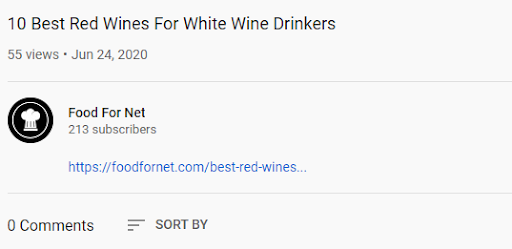 The next step with any optimizing effort is to track the effect it has on ranking. But this is laborious to do manually every day. It's a big waste of time and has the potential to be corrupted with data entry errors or gaps in tracking if you forget to do it one day.
This is where the Rank Tracker comes in because it keeps track of video positions for you automatically. So you can focus on the optimization part and leave the tracking to the tool. By registering an account, you can save your keyword and video settings and keep tabs on your rank position as it changes over time.
How does Video SEO work and what are the ranking factors?
Video SEO (Search Engine Optimization) is much like traditional SEO on Google. It encompasses strategies and tactics for how you can optimize your videos to make them appear higher in search results. Fundamentally, the concepts are the same:
1. Keywords
At a base level, search is driven by keywords (among several other factors) so ensure you include your target keywords in and around the video especially the Video Title and Video Description. Use our Video Description Generator to optimize your description and leverage the 5,000 characters (yes, 5,000 per video) that YouTube provide you with.
2. Metadata
Video metadata relates to elements such as Video Tags and HashTags. Video Tags are invisible keywords and keyphrases added in the Video details section when you upload your Video in YouTube Studio whereas HashTags are visible on the video (the first 3 are shown above the Video Title) and can be added via the Video Description.
3.Search Intent
When someone searches on Google or YouTube, they try to provide the most relevant results to the user. However, they go about this in slightly different ways. Google's search algorithm infers relevancy by measuring page experience (via time spent on page, bounce rate and other factors). It then ranks pages accordingly.
YouTube determines relevancy of videos based on engagement and watch time. Top-ranking videos have a tendency to engage and hold users successfully even if they might not technically be the most relevant videos for the search term.
When thinking about a user's search intent, here are 4 main categories of search intents that the majority of searches adhere to:
Information intent: eg "best red wine" - viewer wants to understand what varieties or types of wine there are<
Commercial intent: eg "red wine makers" - viewer wants to find wineries, cellar doors and producers of red wine
Transactional intent: eg "cheap red wine" - viewer wants to find the cheapest options of red wine to buy
Navigational intent: eg "red wine ladies" - viewer wants to visit The Red Wine Ladies YouTube channel and watch their videos