10 Best YouTuber Podcasts You Need to Follow [2022]
Nov 8, 2022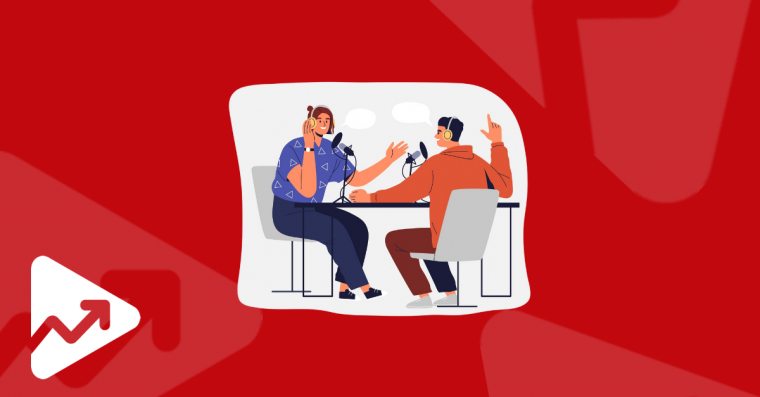 Many well-known YouTube creators also host their own podcasts. YouTubers create their own podcasts because it's a great way for them to stay in touch with their loyal followers and offers another channel to reach fans.
Additionally, if you're a video creator who's looking to up your game, then you should definitely be listening to YouTuber podcasts. Not only are they great for entertainment and education, but some YouTuber podcasts also share tips on how to grow a channel. In this article, we'll discuss 10 of the best YouTuber podcasts out there.
Why Do YouTubers Create Podcasts?
The answer is simple: to increase their online reach and grow their personal brands.
Podcasts are a great way to reach new audiences and get your content out there. They're also a great way to connect with other YouTubers and learn from them. By creating podcasts, YouTubers can build relationships with other creators and collaborate with them in the future.
Additionally, podcasts can help you diversify your content and make you less reliant on YouTube for views. If the YouTube algorithm changes or demonetization happens, you'll have another platform to reach your audience and continue growing your online business.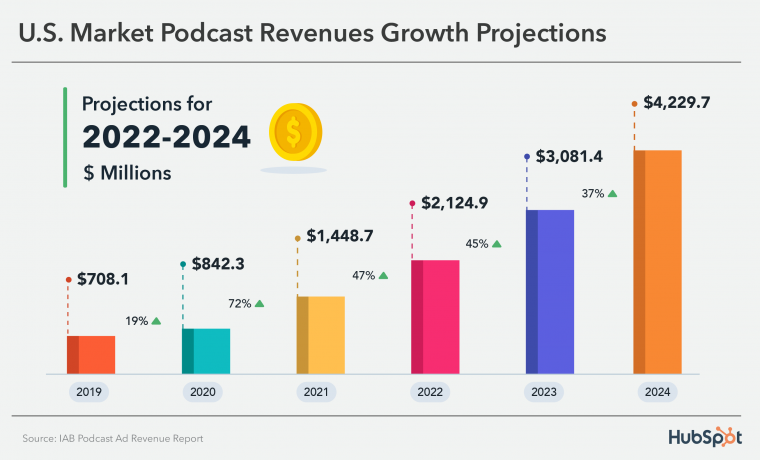 Source: Hubspot
So if you're looking for ways to grow your online following or brand, then creating a podcast is a great option.
Why Listen to YouTuber Podcasts?
As a YouTuber, it's important to keep up with the latest trends and best practices if you want to grow your channel. And one of the best ways to do that is by listening to podcasts hosted by successful YouTubers. Not only will you hear from some of the most successful YouTubers out there, but you'll also learn new strategies and tips that you can use to grow your own channel.
Plus, listening to podcasts is a great way to stay entertained and motivated. When you're feeling burnt out or just need some inspiration, sitting down and listening to a podcast from a successful YouTuber can be the perfect pick-me-up.
10 Best YouTuber Podcasts
Now that we've talked about why YouTubers create podcasts and why you should be listening to them, it's time to get into the good stuff: the actual podcasts! Here are ten of our favorite YouTuber podcasts that you need to start listening to today.
This podcast features interviews with some of the biggest names in the online space, including YouTubers, bloggers, and social media influencers. Julie Solomon shares a wealth of knowledge when it comes to building an online following, and she shares her insights in every episode.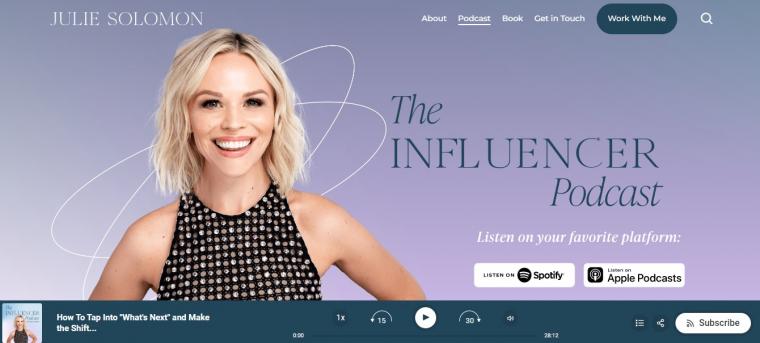 If you're a fan of the YouTube channel, Good Mythical Morning, then you're going to want to listen to the Ear Biscuits podcast. Hosted by Rhett and Link from Good Mythical Morning, this podcast covers topics ranging from "Link Tries to Crash a Wedding" to "Our Rafting Trip". The hosts share personal stories from their lives and past experiences.
Most of the podcast episodes are, as the hosts refer to, "candid weekly conversations for your entertainment".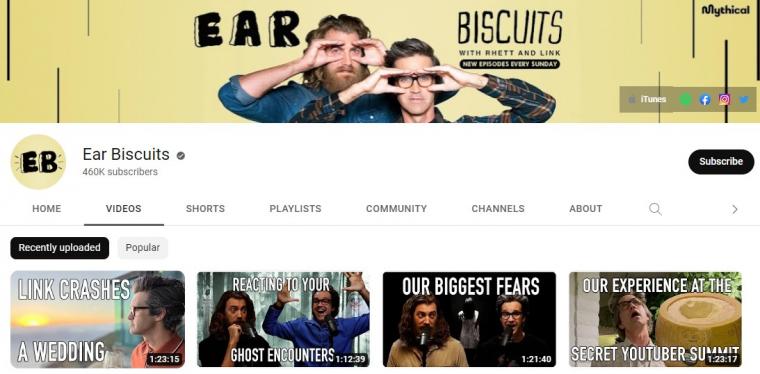 Creators that have their own YouTube channels in the beauty, fashion, fitness, and lifestyle niches need to listen to The YouTube Power Hour Podcast hosted by Erika Vieira. This YouTube podcast covers everything a creator in these niches needs to do to build a successful channel.
The host shares the journeys of other successful YouTubers and uncovers the secrets to their successes. This podcast has featured more than 150 successful female YouTube creators and business owners and is one of the best places that a female creator can go to learn how to replicate their strategies.

If you're interested in growing your YouTube channel, then the Think Media Podcast should be on your daily listening list. Hosted by the creators of Think Media, listeners will learn everything there is to know about starting and growing a YouTube channel. Featuring experts from different industries, YouTubers can learn everything there is to know about running a successful YouTube brand.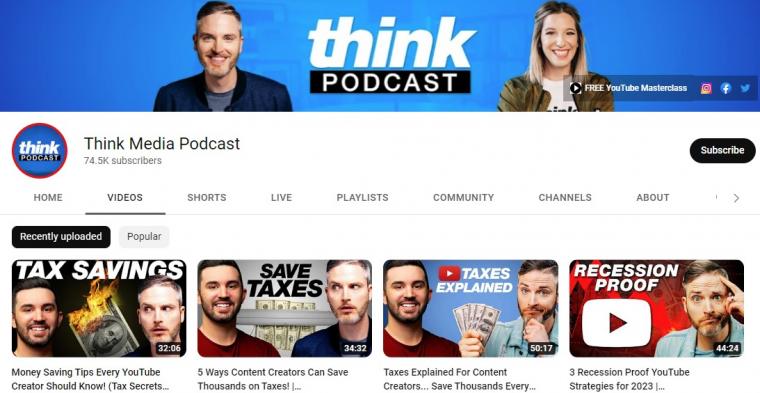 As one of the most successful YouTubers out there, Gary Vaynerchuk knows a thing or two about building a following online. In this podcast, he shares his insights and advice with listeners on how to build a personal brand. He also creates and publishes motivational content for his audience on a regular basis.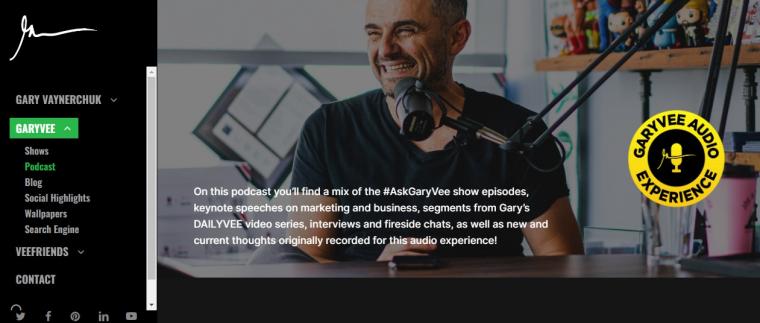 This next YouTube podcast is another must-listen for all YouTubers wanting to improve their YouTube strategy and optimize their channels. Hosted by Tom Martin, this podcast will teach you all the insider secrets that he has used to grow various channels in a short time span.
Tom has been scaling YouTube channels since 2012 and has helped grow the channels of well-known brands such as Top Gear and Mr. Bean. Listeners of this podcast can also expect to gain insights from other popular YouTubers who are featured as guests.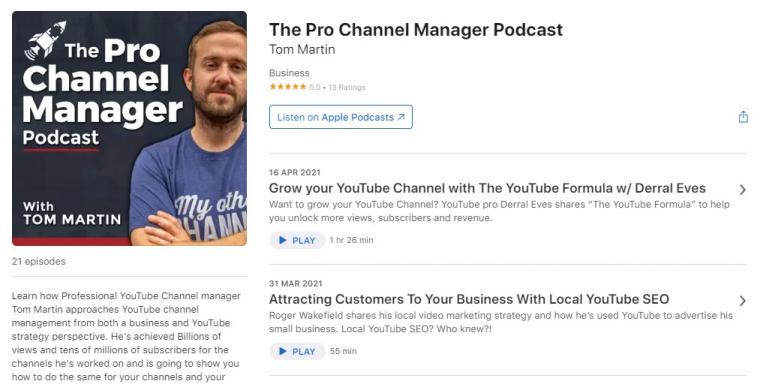 No list of YouTuber podcasts is complete without the Psychobabble podcast. Hosted by popular YouTube sensation, Tyler Oakley, listeners will get a taste of a variety of topics ranging from pop culture to current trends.
This podcast is great if you're looking for something fun and lighthearted to listen to.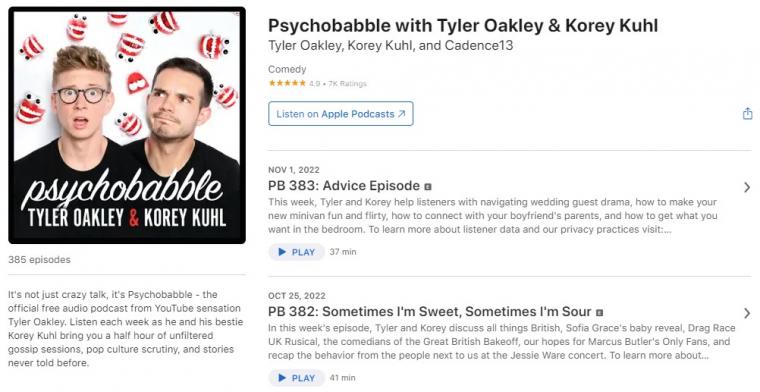 In this YouTuber podcast, plant-based ultra-endurance athlete Rich Roll interviews some of the world's top athletes, entrepreneurs, and thought leaders. They discuss health, fitness, and sustainability.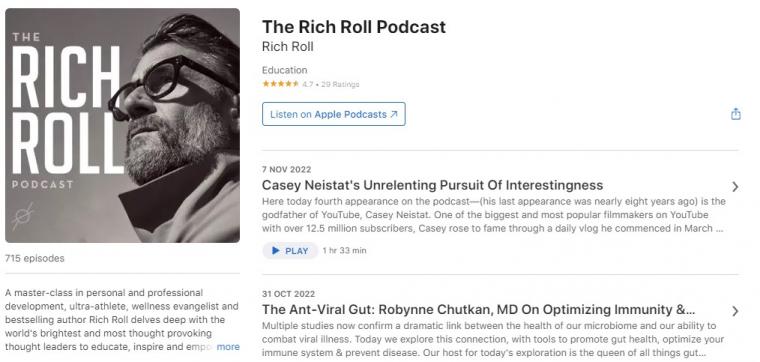 This podcast features interviews with some of the world's most successful people. In each episode, Tim Ferriss deconstructs their habits and routines to find out what makes them tick. Listeners can draw inspiration from each of these guests to improve different areas of their lives.

If you want to know what it's like being a YouTuber then you should add the Views podcast to your list. Hosted by popular YouTubers, David Dobrik and Jason Nash, the podcast shares what "the YouTube life" is like.
The hosts share personal experiences from their daily lives and also discuss what's going on in the news. They've also created a YouTube channel dedicated to the podcast where you can watch the live recording of each podcast episode.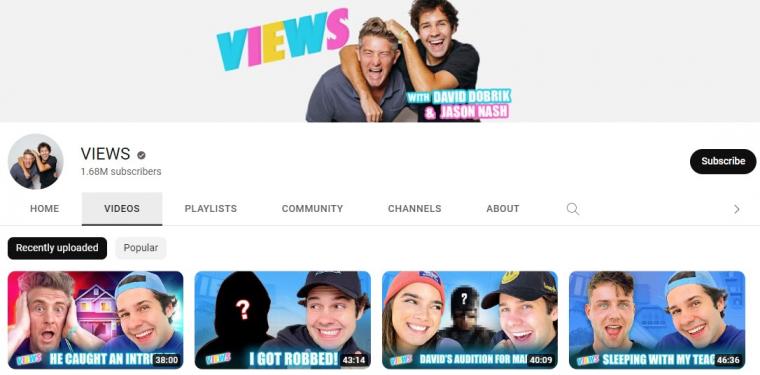 These are just a few of the many great YouTuber podcasts out there. If you want to consume even more content from your favorite YouTube creators, then be sure to check if they host their own podcasts. On another note, if you want to grow your audience off of YouTube, then consider starting your own podcast about a relevant topic.