What Text-to-Speech Software Do YouTubers Use?
Jul 11, 2022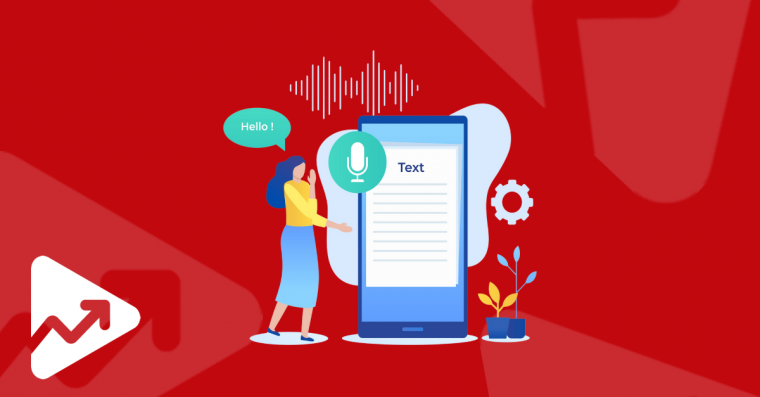 Table of Contents
What is text-to-speech software?
Text-to-speech software & platforms YouTubers use
Amazon Polly
Watson Text to Speech Demo
Natural Reader Online Reader
Balabolka
Zabaware Text-to-Speech Reader
Acapela Box
TTS Tool
Why Use Text-to-Speech Software
Conclusion
Believe it or not, some YouTube channels do not feature the voice of a real person. In recent years, text-to-speech channels have become more popular. But which text-to-speech service do these channels use to create the voice recordings?
In this article, you will learn what text-to-speech software and programs YouTubers use.
What is Text-to-Speech Software?
Simply, text-to-speech software is a type of technology that reads digitally written text out loud. The technology reads words on a computer, smartphone, or other digital device and then converts the words into sound.
Text-to-speech technology was and is still used by screen readers to help individuals with visual impairments to engage with and consume written content. TTS software is also used by individuals with reading difficulties.
Because text-to-speech software generates an audio file of written content, YouTubers started using this technology to create "voice-overs" of their video scripts. Additionally, with the advancement of AI technology, text-to-speech software is now able to create human-like recordings of multiple strings of text.
Text-to-Speech Software & Platforms YouTubers Use
While many different free and paid text-to-speech services exist, there are a few that have managed to stand above the rest due to their quality. No matter what your needs are, there's a text-to-speech (TTS) service for you.
Amazon Polly
Amazon Polly is a paid text-to-speech service provided by Amazon. The cost of this service depends on how many characters of text are converted into speech. It features a variety of high-quality voices with different accents, tones, etc.
Polly is a great option for YouTubers who want to create high-quality TTS recordings. Whether a slideshow or commentary video is being created, Polly is more than capable of producing usable voice recordings.
Watson Text to Speech Demo
Watson Text to Speech is a TTS service from IBM. Similar to Amazon Polly, it is a paid service. However, a free demo is offered online, making it possible to use the service to create voice recordings for free.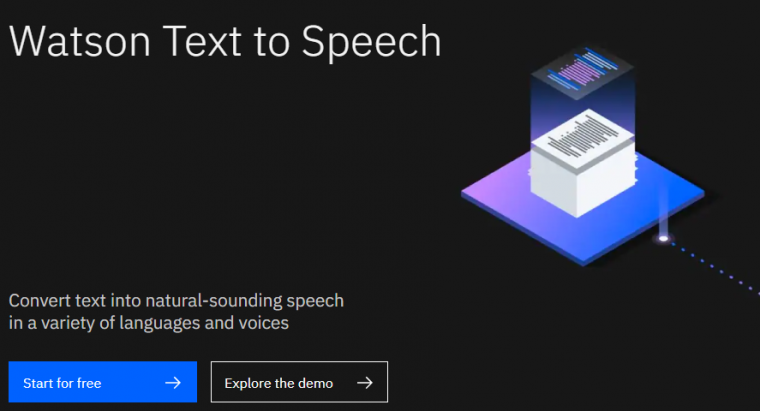 This TTS service produces very lifelike recordings. Since this is the case, you can create long-form videos that are watchable and sound as if they are being voiced over by a real person reading from a script.
Natural Reader Online Reader
Natural Reader is a free, online text-to-speech reader. For many, this is known as the best free service. There are free voices and also premium voices. The free voices are free to use for an unlimited amount of time, while the premium voices cost money.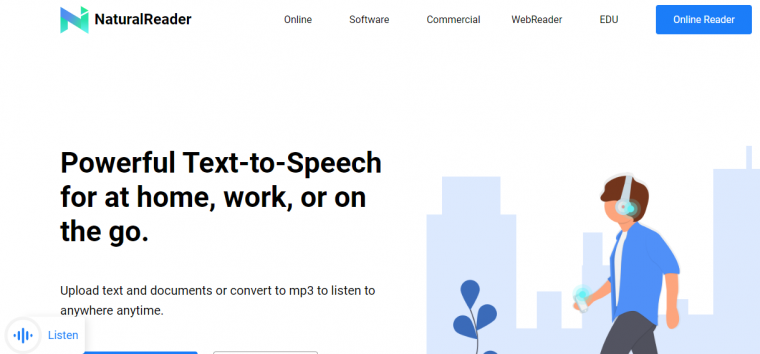 One of the biggest benefits of this service is how easy it is to use. The interface is easy to operate, and it has a clean design. All you need to do is paste your text into the text box, choose your voice, play the audio, and download it.
Balabolka
Balabolka is one of the oldest TTS services on the internet. However, it is still a great option for those looking to create voice recordings. Something different about Balabolka from most services is that it is an application that must be downloaded to use. Keep that in mind!

Quality-wise, the voices produced are not too bad. Depending on your needs, you will either find the recordings to be stellar or less than ideal. At the end of the day, you will need to test out different voices and settings to see if you can produce the voice you need.
Zabaware Text-to-Speech Reader
Zabaware is another old TTS provider. Similar to Balabolka, this service will need to be downloaded in the form of an application to be used. There is a free version and also a paid version that includes more voice options.
The free version of this service is capable of producing recordings that sound decent. However, the paid version is the version that includes synthesized voices, which sound more realistic. So, consider purchasing the paid version if you want to take things to the next level.
Acapela Box
Acapela Box is a free, easy-to-use online TTS service. It includes plenty of male and female voices, some of which are premium. Something different about this service from others, however, is the fact that it allows you to regulate the speed and shaping of voices.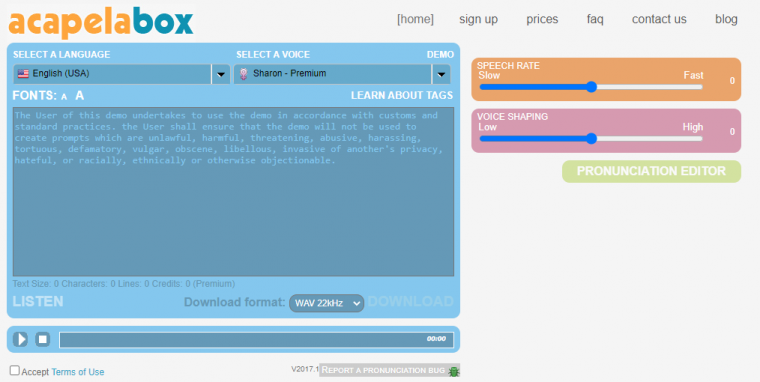 There isn't much to say about Acapela Box. It works well, is easy to use, and it's free. No matter what your needs are, there's a good chance that this service will be able to serve you well.
TTS Tool
TTS Tool is as simple as it gets. Select your voice, enter your text, and download the recording. If you need recordings in a language other than English, this service can work for you, as you can record voices in many languages.
An added benefit of this tool is that it allows you to adjust the volume, rate, and pitch of the voices. Having these options allows for unique-sounding recordings to be produced, which can help your videos stand out from other TTS videos.
Why Use Text-to-Speech Software
Using text-to-speech software in your YouTube videos has 2 major benefits for content creators:
Cost-efficient. Instead of having to hire a voice-over artist to record and create audio files of video scripts, you can use text-to-speech software to do it. This is much cheaper than having to hire a person to create the audio files.
Fast. By using text-to-speech software, YouTubers can create audio files of text transcripts in a matter of minutes, if not seconds. Whereas the turnaround time for creating audio files by hiring a voice-over artist or freelancer may take up to several days.
Conclusion
You now know the answer to the question, "what text-to-speech do YouTubers use?" While there are plenty of options available, there are a few that stand above the rest for their high-quality voices and realism.
Be sure to test out different TTS software to find the one that best fits your liking.