What are YouTube Impressions & How to Increase Them?
Sep 13, 2022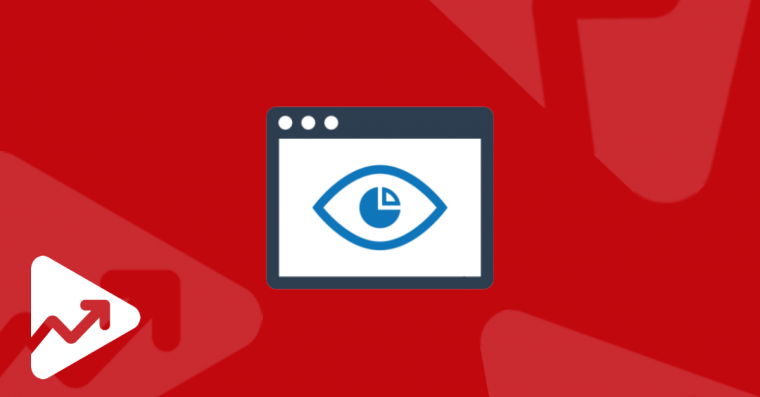 Table of Contents
What are impressions on YouTube
When are YouTube impressions not counted
How to check YouTube impressions
Are YouTube impressions the same as views?
How to increase YouTube impressions
Use descriptive video titles
Optimize your YouTube thumbnails
Add the right keywords to video titles
Write SEO-optimized video descriptions
What is the impression click-through rate on YouTube?
Conclusion
As content creators, we've got to do everything possible to "satisfy" the YouTube algorithm and maximize various performance metrics such as our impressions on YouTube. In this article, you will learn what impressions are on YouTube, why this metric is important, and how to increase video impressions.
What are Impressions on YouTube?
An impression on YouTube is a metric that counts toward your video performance statistics. When a viewer sees your thumbnail in the search results or some other areas of the platform, this generates an impression of your video.
When a viewer views the thumbnail for more than 1 second and at least 50 percent of the thumbnail is visible, then a YouTube impression is recorded.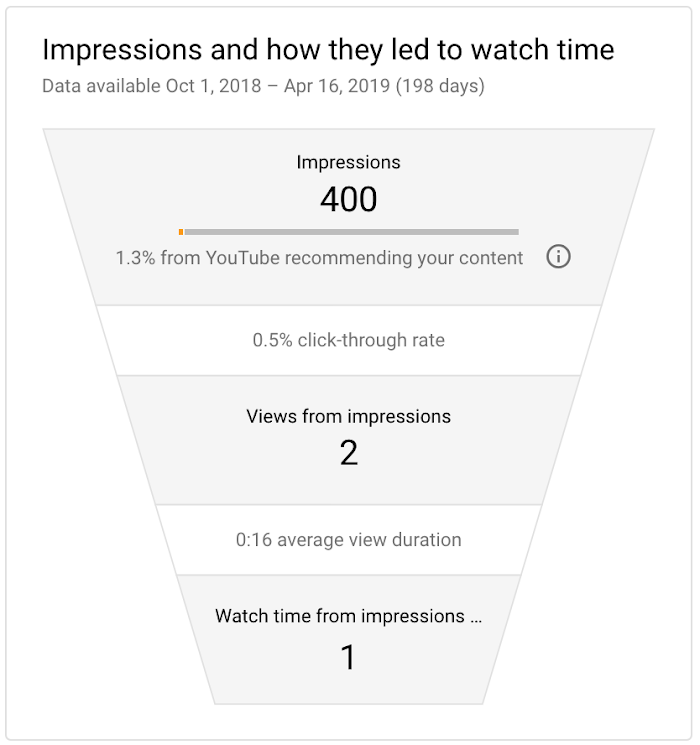 Impressions also occur when a viewer:
Sees your video as a recommendation based on what they are currently watching
Sees your video in the "Up Next" section on YouTube
Sees your video thumbnail in different YouTube feeds such as "Watch later", "Subscriptions", etc.
When are YouTube Impressions Not Counted
Views generated from the following sources are not counted as impressions:
Embeds on websites other than YouTube
Cards and end screens in the YouTube video player
YouTube videos that play in the background
Thumbnails that are seen for less than 1 second or that are less than 50% visible
Ads that are shown on partner sites or apps that use Google's ad technology, unless those ads lead to a YouTube watch page
Why are YouTube Impressions Important?
YouTube impressions are important because they give creators an indication of how much YouTube is recommending their content to users on the platform.
A high number of impressions show creators that YouTube thinks their content is useful. Whereas a low impression metric indicates that a creator needs to change or modify his/her YouTube SEO and video optimization strategies in order to attract more impressions.
If a certain type of video is getting more impressions on YouTube than other videos, then it signals that YouTube is recommending this content to more viewers, and invariably likes it more. The creator can then follow the same strategy when creating future videos.
How to Check YouTube Impressions
Now that we know what YouTube impressions are and why they matter, it's time to learn how to check this metric.
There are two ways to check your YouTube impressions:
The first method is to go to your Analytics tab in the YouTube Studio. Navigate to the "Content" tab on the top and look at the "Impressions" section. This card will show you the number of times your thumbnail has been seen in the search results.
The second method is to go to YouTube Studio and then click on the "Content" tab on the left. Click on the analytics icon of the video you'd like to see the impression count on and then switch to the "Reach" tab. Here you will find even more data on where your impressions are coming from, such as through YouTube recommendations or the Homepage feed.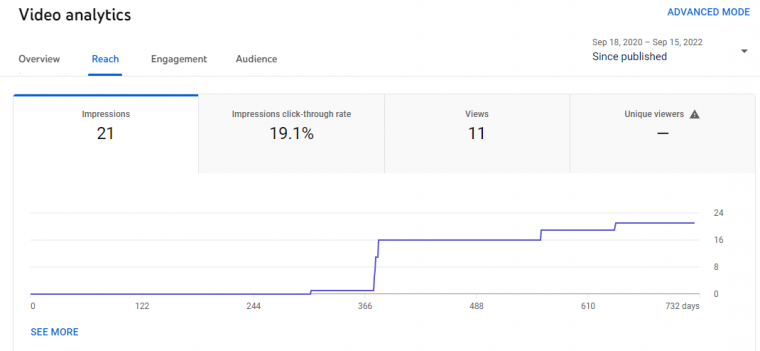 Are YouTube Impressions the Same as Views?
The answer is no. Just because your video has a high number of impressions does not mean it will also have a high number of views.
Views on YouTube are counted when a user clicks on your thumbnail and watches at least 30 seconds (or the duration of the video if it's shorter than 30 seconds) of your video.
A YouTube impression is when your thumbnail appears in the search results or on the Homepage feed.
While views are obviously important, YouTube impressions are just as important because they show how often your video is being recommended by YouTube. If you can get more YouTube impressions, then you are more likely to get more views in the long run.
There are a few things you can do to increase your YouTube impressions.
How to Increase YouTube Impressions
Here are a few tips on how to increase your YouTube impressions:
Use Descriptive Video Titles
When people search for videos on YouTube, they usually type in keywords or phrases. If you want your video to appear in the search results, then make sure to include relevant keywords in your title.
Your title should be descriptive and give people an idea of what your video is about. A catchy and attention-grabbing title will also help to increase your click-through rate, which in turn will lead to more views and impressions.
Including keywords in your title is especially important if you're trying to rank for a specific keyword or phrase (more on this later).
If you're struggling to think of a video title for your content, then consider using a YouTube title generator tool to help you with the process.
Optimize your YouTube Thumbnails
Your thumbnail image is what people see in the search results, so it's important to make sure that it's eye-catching and attractive.
Use high-quality images and avoid using generic stock photos. If you can, try to include a human face in your thumbnail as this has been shown to increase click-through rates.
Let's look at a YouTuber who creates great thumbnails for his videos. Jelly uses a bright green theme for all his video thumbnails. Not only that, his thumbnails have a consistent look and feel, which is representative of his brand. Additionally, he makes use of unique graphics to make his thumbnails stand out from the crowd.

Also, add attention-grabbing text and font to give the user further information about what they can expect to find by clicking on your video link.
Once you've created a thumbnail design that you're happy with, save it as a template that can be reused for future videos. This will save you time and ensure that all your thumbnails have a consistent look and feel.
Your thumbnail image is one of the most important factors in getting people to click on your video and increase YouTube impressions, so make sure to spend some time creating a good one.
Add the Right Keywords to Video Titles
As we mentioned before, including relevant keywords in your title is a great way to increase your YouTube rankings and impressions.
When choosing keywords to include in your title, try to think like your target audience. What words or phrases would they use when searching for a video like yours?
You can also use YouTube's autocomplete feature to get ideas for keywords to use. Simply start typing in a word or phrase related to your video and YouTube will suggest popular search terms that users are looking for.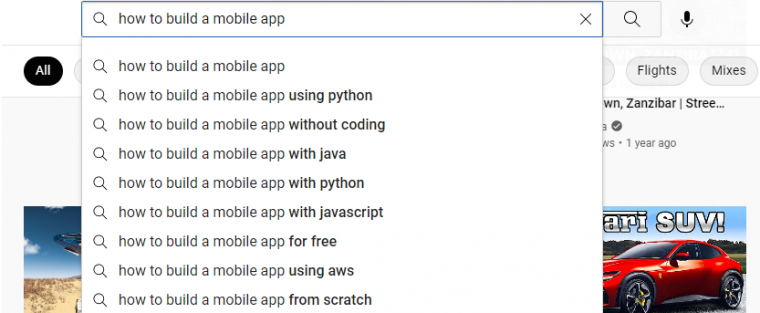 Another option that you can try out is to use a YouTube keyword research tool to find the best keyword variants to add to your video title.
Once you've selected the right keywords, make sure to include them in a way that sounds natural and doesn't look like you're stuffing your title with keywords. This will not only turn off potential viewers but could also result in YouTube penalizing your video.
Remember to also include your target keywords in your video tags as this will help YouTube understand what your video is about and how it should be categorized.
Write SEO-Optimized Video Descriptions
Your video description is another important factor in ranking your videos on YouTube.
When writing your description, make sure to include relevant keywords and phrases so that YouTube knows what your video is about. However, don't stuff descriptions with too many keywords as this will again result in YouTube penalizing your video.
Your description should also be engaging and give viewers a reason to watch your video. Include a call-to-action (CTA) at the start of your description to encourage people to click through to your video.
Creators can use a video description generator tool to help them create standardized video descriptions, that include their channel's target keywords.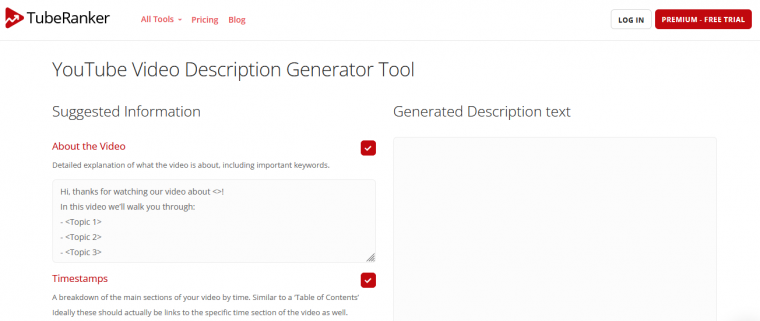 What is the Impression Click-Through Rate on YouTube?
YouTube's impression click-through rate is a metric that shows how many of your YouTube impressions resulted in video views.
This metric is a good way to measure how effective your thumbnails, video titles, and descriptions are in getting users to click and watch your videos.
Additionally, the higher your impression click-through rate is, the higher the odds of YouTube showing or recommending your videos to other users on the platform.
Conclusion
YouTube impressions are important because they give you an indication of how many people are seeing your videos in the search results.
A high impression click-through rate is also beneficial as it increases the chances of YouTube recommending or featuring your videos to other users on the platform. To improve your YouTube impressions, make sure to include relevant keywords in your video titles and descriptions, and create engaging thumbnail images.
By following these tips, you can improve your YouTube ranking and get more people to watch your videos. Remember to keep track of your metrics so that you can see the results of your efforts over time. Good luck!