How to Export & Upload Twitch Streams to YouTube
Mar 31, 2023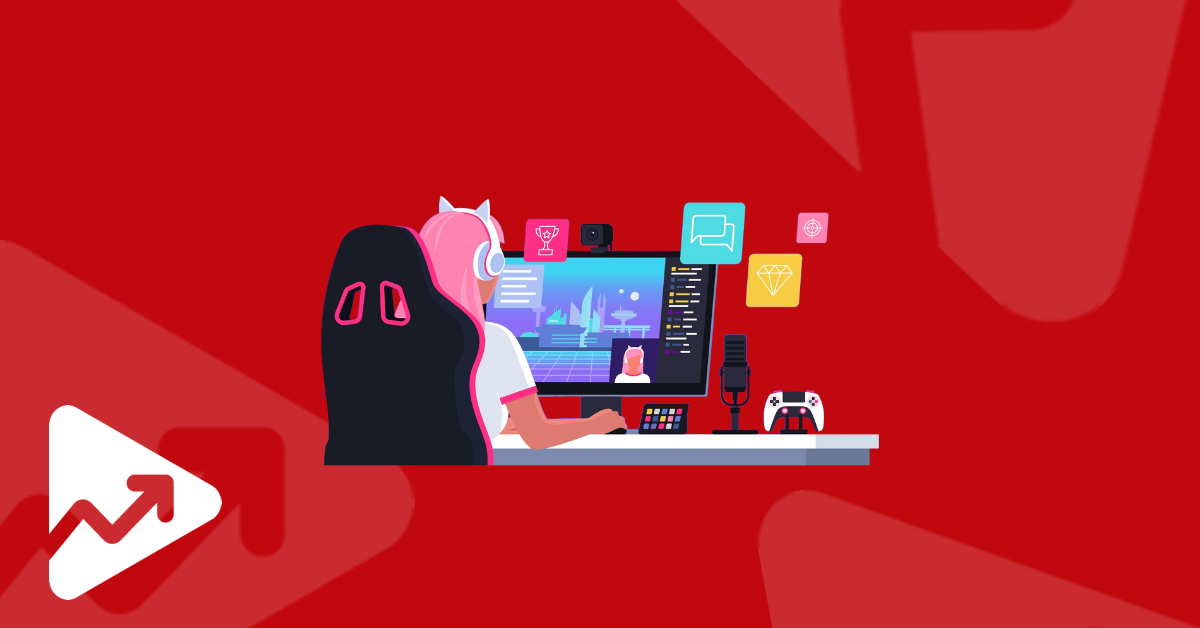 Founded in 2011, Twitch is one of the largest platforms used for live video streaming with a thriving community-like atmosphere.
Connecting your Twitch account with another leading streaming service can be a bonus. Exporting your VODs (Video on Demand) from Twitch to YouTube can help you reach a wider audience and earn extra income.
This article aims at helping creators achieve a significant number of users by leveraging the YouTube platform to its best. I have listed all the steps required to export and upload Twitch streams to YouTube.
Let's begin!
YouTube vs. Twitch: What Are the Differences?
Twitch is one of the largest live-streaming platforms for a closely-knit community where most content is built around video games.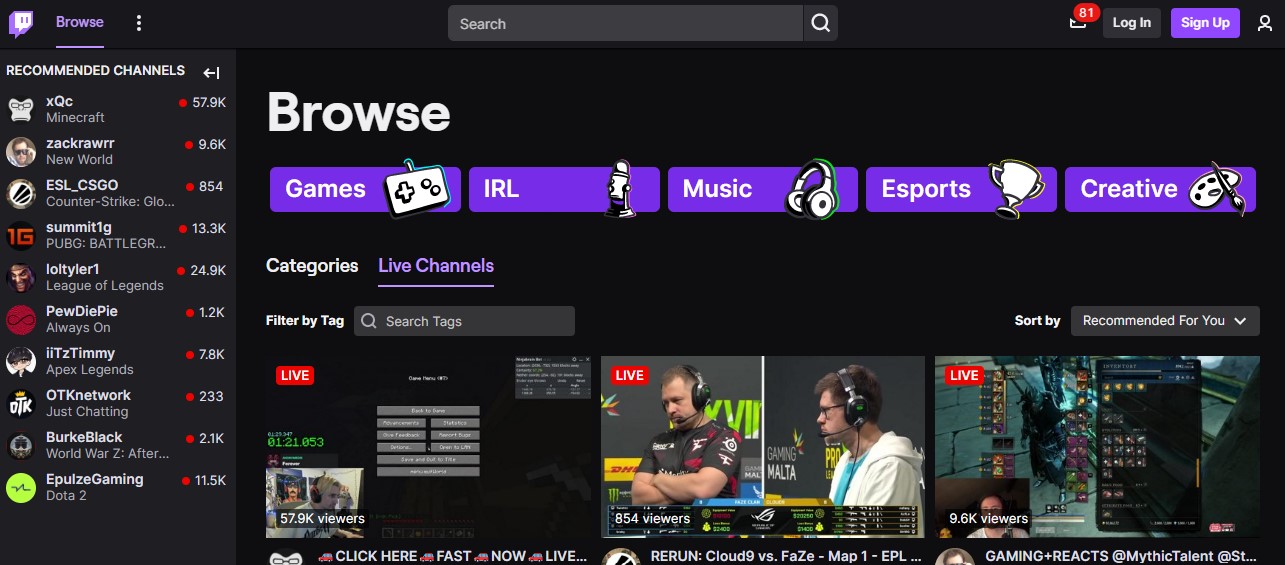 In contrast, YouTube is a video-sharing platform that has fewer streamers but a higher number of users. The platform hosts a variety of content, including vlogs, live videos, presentations, and webinars.
Here are the key differences between YouTube and Twitch:
Level of Engagement: YouTube has less number of streamers compared to Twitch, but a significantly bigger user base. The potential for your development as a new streamer is much higher on YouTube. The competition on YouTube is significantly less than on Twitch. In addition, YouTube has a user base of around 20 times the size of Twitch. Hence, for new content creators, YouTube is much easier to begin and establish yourself as a video creator. YouTube provides more exposure which is something that any new content creator will need to grow the viewer base.
Discoverability: It becomes way more difficult for new creators to be discovered on Twitch. The Twitch algorithm is new and not as good as the YouTube algorithm, which might hamper your video discoverability. Also, channels are sorted from highest to lowest on viewer count, meaning the new creators are subject to being at the very lowest of the category under which they are streaming. Making your Twitch channel visible to your target audience would require more creative ideas and other mediums to build interest. However, YouTube has an algorithm that helps users find new content published on the platform quickly, making it easier for newbies to promote their videos.
Growth: YouTube has a better algorithm for showing quality content. If you create a video on a topic that viewers are looking for on YouTube, and they like your content, then YouTube will promote your content since viewers like it. Twitch, on the other hand, caters to those with larger audiences. This feature makes it quite challenging for new creators to break through.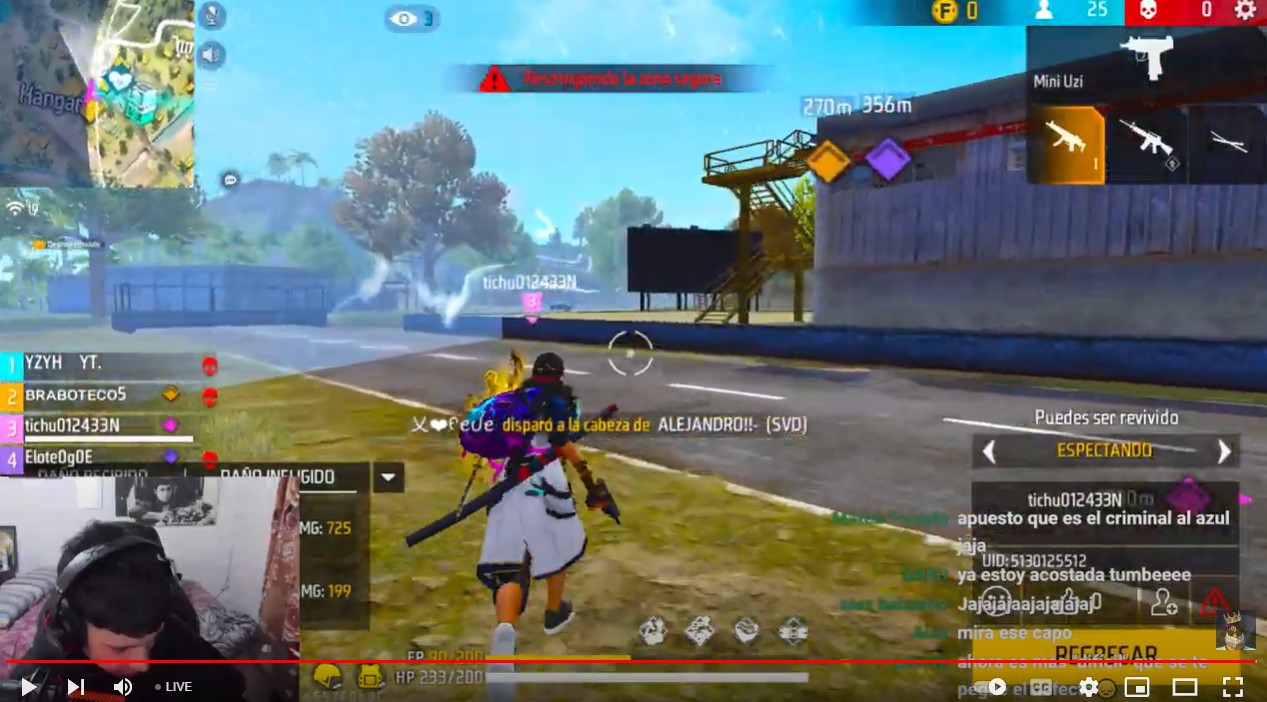 Why Export Twitch Streams to YouTube?
Here are the top reasons why you should upload Twitch streams to YouTube:
While Twitch is a popular streaming platform, YouTube has a much larger audience. By exporting your Twitch streams to YouTube, you can potentially reach a wider audience and grow your viewer base.
Although Twitch pays a substantial amount of money to the streamers, adding another source of income is always a good option. One of the primary reasons that make any content creator uploads Twitch streams on YouTube is the additional financial security that it can provide.
Uploading Twitch streams to YouTube keeps your followers engaged even when you are not streaming live. There might be times when your followers cannot attend live sessions, but uploading it on YouTube will give them a chance to view the pre-recorded live stream at their convenience.
It enlightens YouTube followers and lets them decide to watch your future live streams. Watching your videos at their convenience helps them decide whether they like your content. This will drive your YouTube audience toward your Twitch streams and increase your live stream joiners list.
YouTube has a powerful search engine that allows users to discover content based on keywords and phrases. By exporting your Twitch streams to YouTube, you increase the chances of your content being discovered by new viewers who are searching for content similar to yours.
How To Upload Twitch Streams to YouTube?
Here is the process to upload Twitch Streams to YouTube:
Enable VOD on Twitch
Video on demand, or VOD, is a media distribution system that enables users to access videos without a traditional video playback device. To enable VOD on Twitch, you must first save your broadcasts before exporting your VOD.
Before uploading and exporting your Twitch stream, you should ensure that you have successfully enabled the VOD feature on your Twitch account for better audience engagement and channel growth.
Here are the reasons why you should enable the VOD feature on your Twitch:
The potential to reach more viewers on other platforms increases.
You can create highlights and small videos from your VOD broadcasts and even share them on various other social media platforms.
You can attract and get new followers by watching your past videos.
It helps retain and attract regular viewers even when the streamer is offline.
Here are the steps to enable VOD on your twitch account:
Log in to your Twitch account. Click on your profile picture from the top-right corner of the page.
Click on the drop-down menu and select Creator Dashboard from the avatar at the top right corner of your screen.
Expand the Settings options and select the Stream button.
Move through the Stream Key and Preference options. Find and select the Store past broadcast toggle to enable it.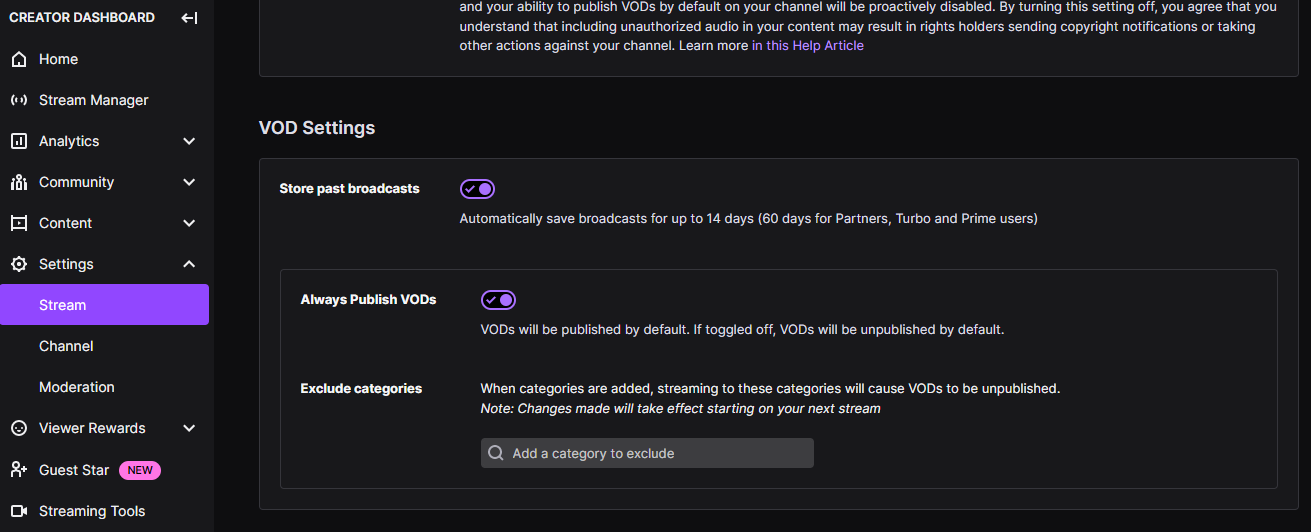 Link Twitch Account to YouTube Account
Here are the steps to link your VODs to YouTube:
In the Account Settings section, click on the Connections tab and select YouTube.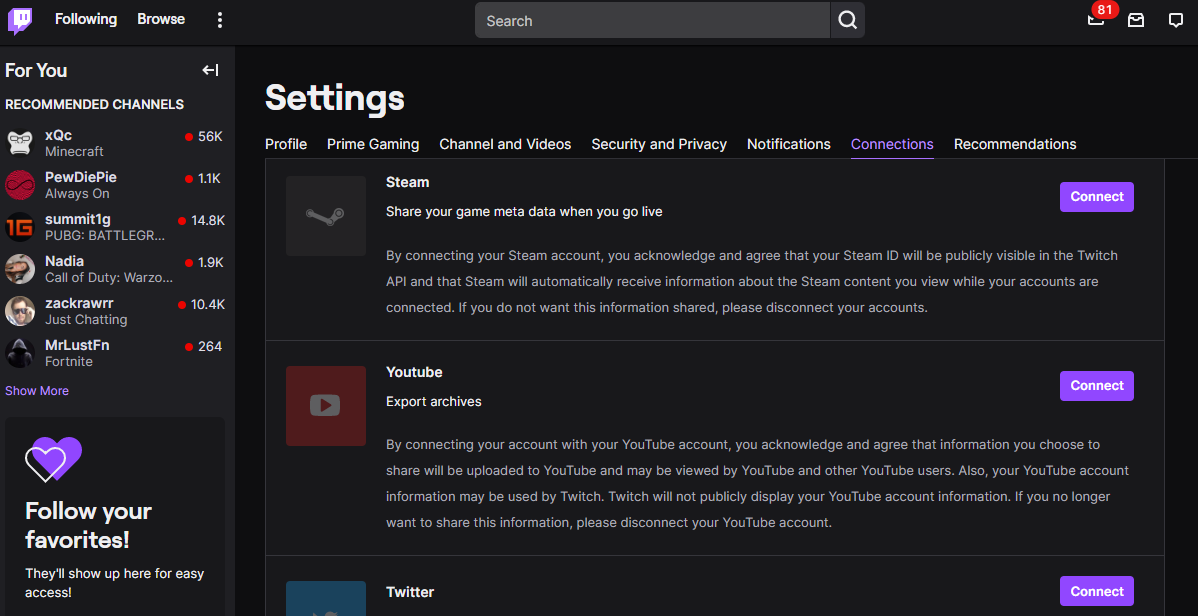 After you select the option to connect, it will redirect you to a new page, and you will be asked to choose the Google account from which you want to link your Twitch account. Once you allow and continue, your YouTube account will be linked to the Twitch account.
Upload Twitch Streams to YouTube
One of the key advantages of the export feature on Twitch is its user-friendliness in transferring your best content from Twitch to YouTube.
Here are the steps to export and upload Twitch streams to YouTube that can not only increase your reach but also drive more subscribers to your channel:
Once you have successfully linked a Twitch account to YouTube, you need to click on the little arrow next to your profile picture/avatar in the top right corner.
You will get a drop-down menu. Choose the Video Producer option. It will display a list of all the videos and highlights.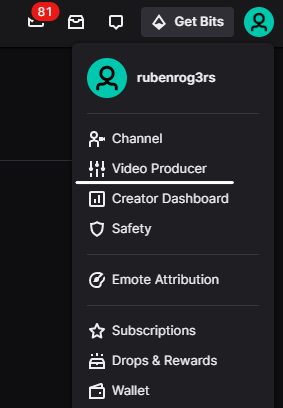 Select the video you want to export by clicking the three vertical dots from the right side of the video. You will get a drop-down menu allowing you to perform various actions on your video. Choose the Export option.
When selecting export, you will get a dialogue box asking you to fill in a few details. The information includes the video title, tags, and description. You also have the option to choose the privacy option of your video. Once you have filled in all the required details, click on the start export option. Your video is ready to get displayed on YouTube.
That's it! You have successfully completed the Twitch export to YouTube.
Twitch and YouTube Streams FAQs
What is Twitch?
Twitch is a leading American video live-streaming platform that focuses on broadcasting esports competitions, music, creative content, and real-life streams. It is operated by Twitch Interactive, which is a subsidiary of Amazon.com.
How Much do Twitch Streamers Make?
On average, a full-time Twitch streamer earns around $3000-$5000 per month. The numbers may vary depending on the popularity and sponsorships they get.
What Does the Highlighting Feature Mean in Twitch?
Highlighting is an important feature that lets you show off the best parts of your lengthy Twitch streams. Once you are done streaming, you can create multiple highlights of a particular stream before publishing it on YouTube.
It is often considered a good idea to highlight your Twitch videos or edit them before uploading them to YouTube, as the viewers on YouTube are more likely to watch small clips or compilations rather than watching full streams.
How to Monetize Your Twitch Stream?
Here are the primary two ways to monetize your Twitch stream in 2023:
Twitch Affiliate Program: This monetization model is designed for streamers who are beginners on the Twitch platform and are in the process of increasing their audience base. In this program, streamers receive a part of the revenue generated from their videos to encourage you for your work on Twitch.
Twitch Partner Program: This program is designed for established streamers with substantial viewership. It allows users to take their channel and streaming to the next level. Plus, it has more benefits and perks to help the channel grow. The percentage and source of your earnings in the Partner Program are similar to that of the Affiliate Program; only the conditions to be eligible for both programs change.
What are the Sources of Income on Twitch?
Once you are eligible for all the conditions required by the Twitch Affiliate program and Twitch Partner program, you can begin generating income from various sources.
Here are the top sources of income on Twitch streams:
Twitch subscriptions: Based on the tier you have chosen, you get 50% of the revenue from the subscribers to your channel.
Twitch bits: For every 100 bits your channel gets, there's a payout of $1.
Video game sales: You can earn 5% of the revenues from a game or in-game add-ons when the purchase originates from your Twitch channel.
Donations: You receive 100% of your total donations on your Twitch channel from your loyal subscribers.
Ad revenue: You receive a payout whenever you reach the monthly threshold of $50 or $100.
Can You Stream on YouTube and Twitch at the Same Time?
Yes, you can stream on both YouTube and Twitch at the same time. In fact, the multistreaming feature on Twitch offers to increase your audience reach.
Conclusion
Twitch caters to live streamers and is the largest live streaming platform worldwide. On the other hand, YouTube is meant for long-lasting content and enables viewers to search for a specific niche or topic of interest.
Content creators should enable the VODs before sharing their content on YouTube. By exporting content from Twitch to YouTube you can garner more viewers to both channels and enhance engagement resulting in more ad profits.