How To See the YouTube Tags a Video is Using
Oct 4, 2021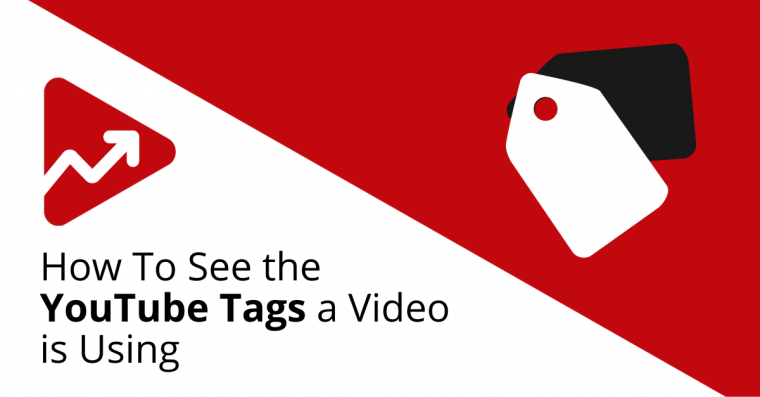 Table of Contents
What Are YouTube Video Tags?
How To Find YouTube Tags
The HTML Method
Use A YouTube SEO Tool
Conclusion
One of the ways that you can optimize your videos is by using appropriate YouTube tags.
But knowing which video tags to use may seem like a challenge at first.
In this article, we will share some methods that you can use to find the tags that your top competitors are using. With this data, you can determine which tags to use in your YouTube videos.
But first, let's look at why it's important to optimize your YouTube videos.
After Google, YouTube is the second-largest search engine in the world. It's therefore very important that you do everything in your power to be able to get your videos to rank high enough so that YouTube users can find them.
To give you an idea of the size of YouTube, consider this quote by Mushroom Networks:
"YouTube processes more than 3 billion searches a month. 100 hours of video are uploaded every minute. It's bigger than Bing, Yahoo!, Ask and AOL combined."
Now that's a whole lot of searches every month! Can you see why it's important to optimize your YouTube videos in order to beat the competition?
What are YouTube Video Tags?
YouTube video tags are words and phrases that you can add to give YouTube a clearer understanding of the context of your videos.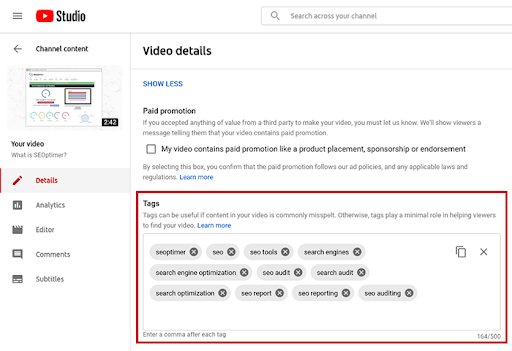 Unlike metadata such as video titles and descriptions, YouTube tags aren't visible to viewers.
Because tags are hidden, it will require some work from your side to discover which tags your competitors are using.
So without further ado, let's discover how you can find YouTube tags.
How to Find YouTube Tags
There are several methods to finding YouTube video tags:
The HTML method
Use a YouTube SEO tool
The HTML Method
This method entails viewing the page source code to find the tags that a video is using. It's recommended that you use Chrome or Firefox for this.
For this example, let's imagine that we have a baking channel on YouTube. We've created a video on how to bake a vanilla cake and we'd like to know which tags to add to our video.
First, go to the video that is the most popular for your topic. In this case, it would be "how to bake a vanilla cake":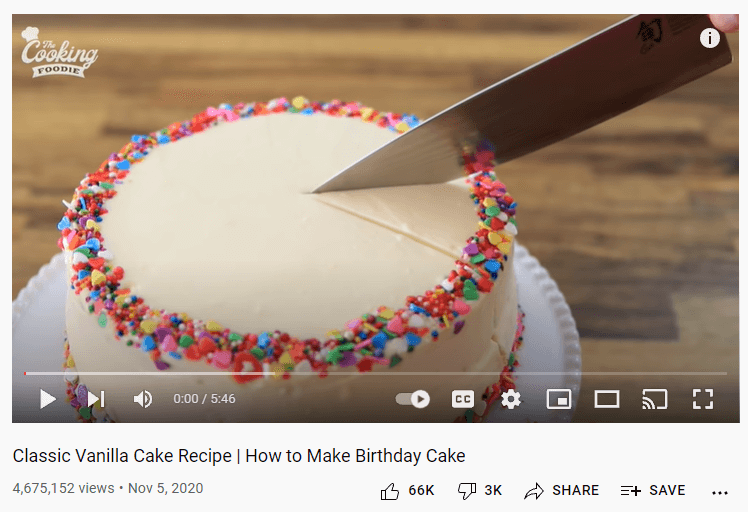 Image source: The Cooking Foodie
Then, right-click anywhere on the page and click on "View page source".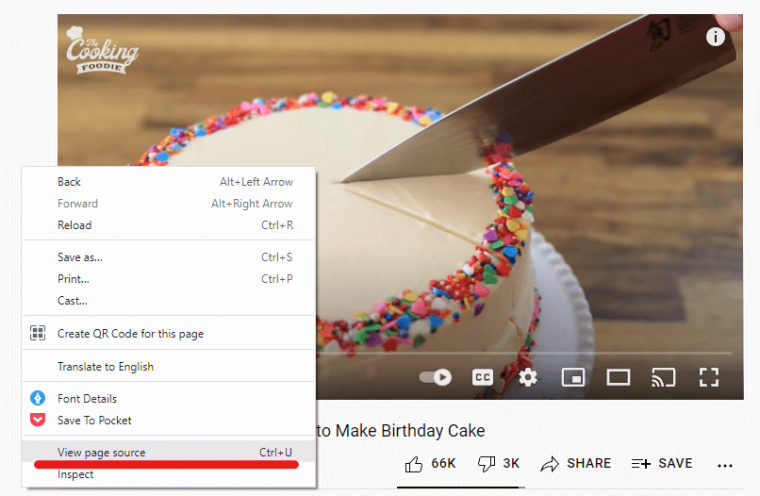 This will take you to the page source code. Now press Ctrl + F and search for the word "Keywords".

The tags that a video uses will be found between the quotation marks after content=.

In our example of the vanilla cake video, some of the tags used are:
Classic Vanilla Cake Recipe
How to Make Birthday Cake
vanilla birthday cake recipe
best vanilla cake recipe

You can then create a spreadsheet with all of the tags being used in competing videos.
Use a YouTube SEO Tool
If the above method sounds like too much effort or takes too much time then you can make use of a YouTube SEO tool to discover the tags that other creators are using in their videos.
TubeRanker is an all-in-one YouTube SEO tool set that helps creators to optimize their YouTube videos in order to rank higher.
The TubeRanker tool set features a YouTube Tag Extractor that extracts tags from any public video in a matter of seconds.
To find video tags with TubeRanker, simply go to YouTube Tag Extractor and paste the YouTube Video URL in the search box:

Hit "Extract Tags" and wait for the tag extraction. Once finished, you will see all of the tags that are being used: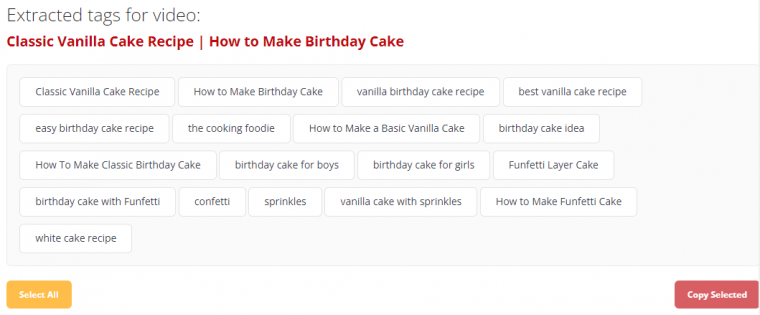 You can also click on "Select All" and then "Copy Selected" to be able to copy and paste the selection in a spreadsheet: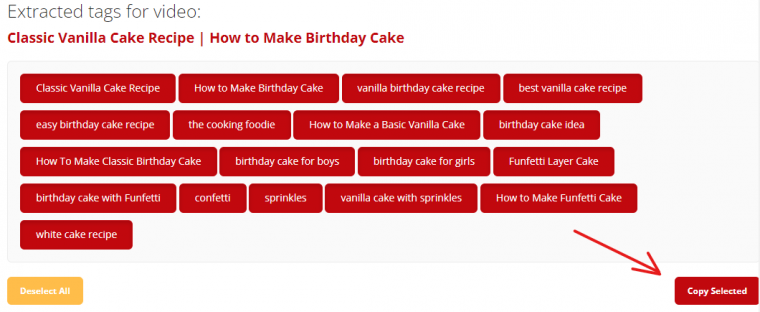 Conclusion
By making use of similar tags to that of the most popular videos, YouTube users will be able to find your videos more easily.
Of course, there goes a lot more into optimizing your YouTube videos than just using the correct tags.
Try out our collection of YouTube SEO tools to get recommendations on how you can improve your YouTube channel and videos today!