How to Make Your YouTube Channel Private
Jan 20, 2023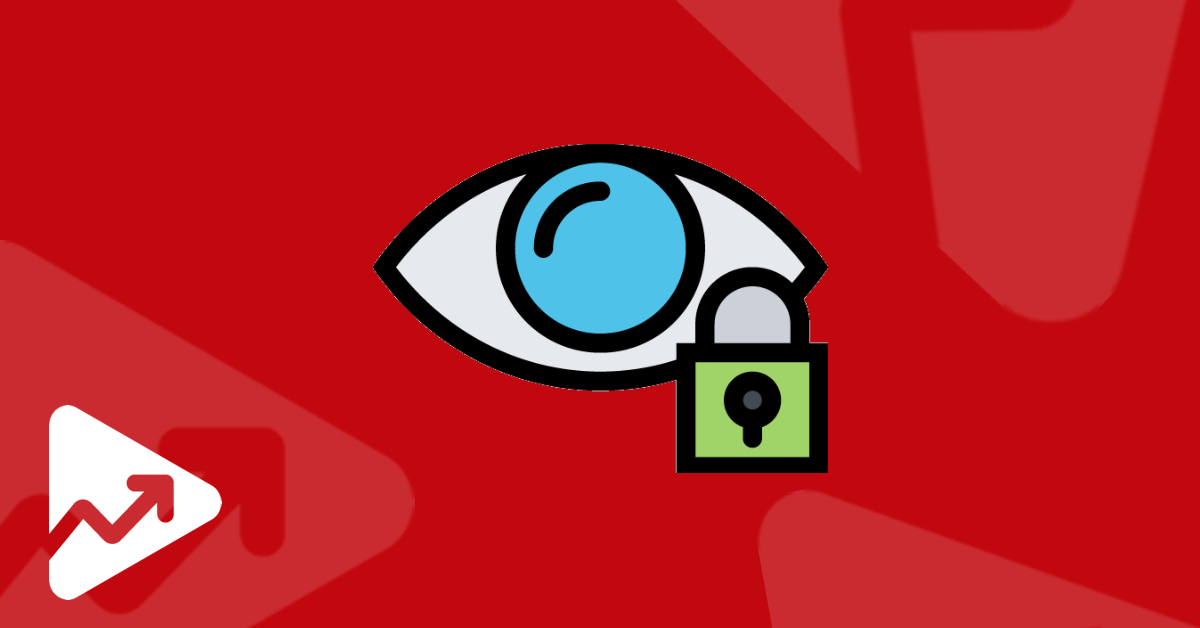 Youtube channels are public by default. Anyone and everyone can watch the videos you publish. To control who watches the content on your channel, you can make your YouTube channel private.
Wondering how you make a YouTube channel private?
In this article, you will learn:
What a Private YouTube Channel Is
Why Make Your YouTube Channel Private
How to Make Your YouTube Channel Private
This article discusses the steps you should follow to make your Youtube channel private.
What is a Private Youtube Channel?
A private Youtube channel hides the videos and playlists of a channel from the public so that no one can see your videos or the channels you are subscribed to. Only you and those who have access can watch your content.
In layman's terms, a private YouTube channel is something you have complete control of and allow only a small community can view your videos.
Unlike public channels, you can't monetize a private YouTube channel.
The default video privacy setting for teenage video creators aged between 13 to 17 is private. If you're 18 or older, your default video privacy setting is public.
Private videos also won't show up in YouTube's search results, meaning you can't get organic traffic to your videos if you keep your channel private.
Why Make Your YouTube Channel Private?
The top reasons to make your Youtube channel private are:
You may have pivoted to a new niche and decided to make your old videos private.
You may have started a paid course so that only those who have paid for the course can get access to those videos.
You may have private company videos. By uploading it and making your channel private, only your employees and team members who have access can visit them.
You may get a lot of hateful comments from viewers. By privatizing, they can't trail you or comment on your videos.
You may want to privatize your channel and store your personal videos on it so that it remains safe in cloud storage and no one except you can view it. Private videos don't appear in video recommendations, search results, and video tab sections for uploading.
How to Make a YouTube Channel Private?
Here are the 9 steps you need to follow to make your Youtube Channel private:
Sign in to your YouTube account.
Click your digital avatar or profile icon in the right-hand side top corner.
Click Youtube Studio.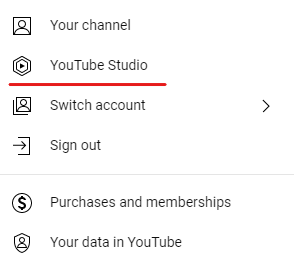 Now you will be in your channel dashboard. Click the Settings option located on the bottom left side.
After clicking Settings, click the Channel option and then Advanced settings.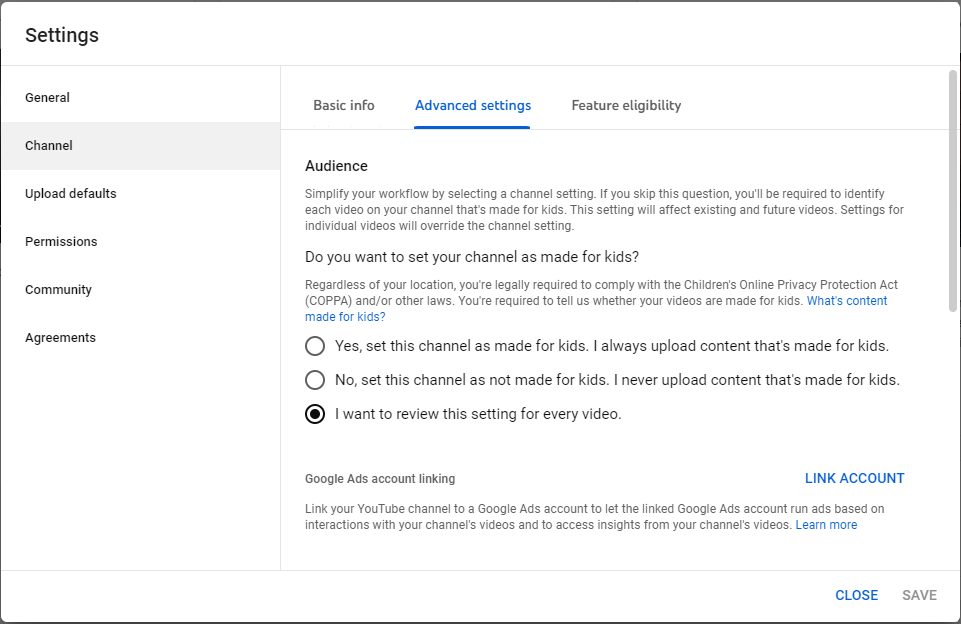 Now, scroll to the bottom. There, you'll see Remove YouTube content, click on the text link. (Don't worry, your content won't be removed or deleted instantly.)
The previous step will redirect you to a Google sign-in. This is a verification step to prevent unauthorized access to your YouTube channel. Enter your details and log in.
After entering in, you will be left with two options. Click the first option, I want to hide my channel.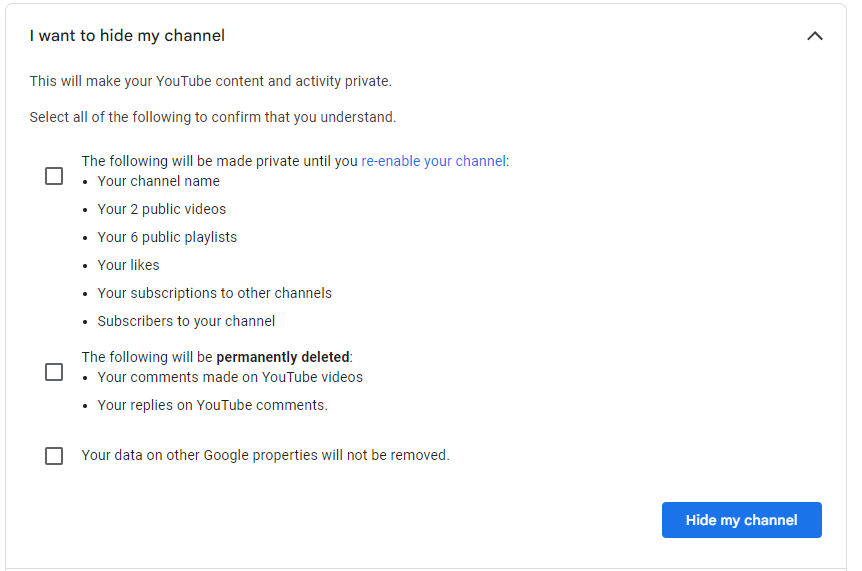 Next, read and select all of the provided checklists. Then, click on Hide my channel.
That's it. Now you've successfully made your channel private.
How to Share Private Youtube Videos?
Now that you know how to make a YouTube channel private, let's see how to share a private YouTube video.
Sharing private videos helps to keep your video secure among your friends and trusted persons.
Here are the steps to share private YouTube videos:
Click your profile icon, then click YouTube Studio and thereafter select Content.
Go to the video you want to share privately, and next to the video, you will see the visibility section. From here, you can change your video to private, public, or unlisted. Click this section and select Share privately.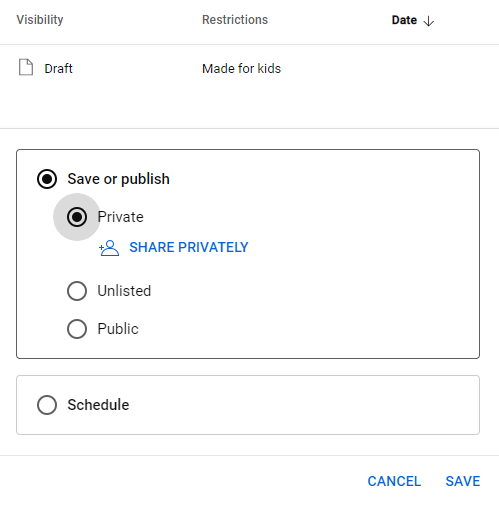 The next section requires you to enter the email addresses of people whom you wish to share your videos with. You can add up to 50 email addresses. Once you have added all the emails, select the Notify via email option to invite your community to view your private video.
Click done and then save.
Conclusion
Privatizing your YouTube channel is not an irreversible process. You can change your private YouTube channel to public and public to private.
By following the above steps, you can easily make your YouTube channel private.
Whatever your reason, you can keep your videos safe and secure by privatizing them. But if you want to get views on your private videos, you need to invite others to enjoy your content.