21 of the Best YouTube Backdrop Ideas for Your Video
Jul 13, 2021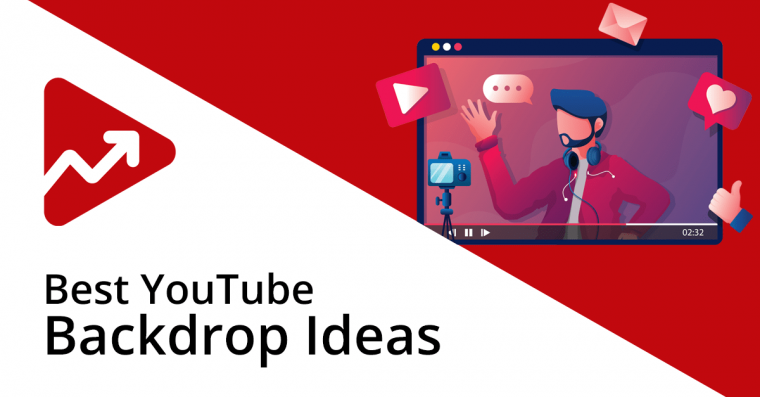 Table of Contents
YouTube Backgrounds with Proven Results
Inexpensive Backdrop Ideas
Popular DIY YouTube Backdrops
Specialized Backdrops
Unusual Backdrop Ideas
Final Thoughts
The best YouTube videos use solid design principles to keep viewers focused on the content. Distractions are kept to a minimum. Everything from the YouTuber's wardrobe to the YouTube backdrop to the background music is carefully chosen.
Your YouTube video backdrop should complement your brand and niche. We have assembled the Top 21 YouTube backdrop ideas in a few key categories to help you choose the best one for you.
YouTube Backgrounds with Proven Results
Some of the world's most popular YouTubers keep their backgrounds quite simple.
1. Blank Wall
As simple as it may seem, a blank wall is still the backdrop used by many hugely successful YouTubers. This works well for the gaming niche, where YouTubers are providing the sense that they are gaming right along with their viewers and much of the screen time is focused on the game, not the videographer.
This only works if you have a neutral-colored wall: bright or unusual colors are distracting to your viewers.
Cost: Nothing (unless you want to repaint)
Best for: Gamers, YouTube niches with lots of screen-sharing
2. Hanging Fabric
Customized, solid-colored backgrounds are easier to attain than you might think. Beauty YouTuber Kelechi Mgbemena demonstrates how she uses a simple hook system attached to her walls to hang fabric. This works as a backdrop for YouTube videos because the color or pattern can be customized to fit your tone and niche.
Mgbemena recommends buying 2 yards of fabric to make sure you have enough.
Cost: Inexpensive, depending on where you buy your fabric
Best for: Any niche, but especially beauty and product reviews
3. Vignette Backdrop
If you are vlogging about education, motorcycle repair, or scrapbooking, it's a good idea to assemble a backdrop that nonverbally communicates that to your viewers. The arrangement of the items can be changed depending on your video's theme.
While you could simply film in your garage or craft table (depending on your niche) the best backdrop for YouTube is a little more intentional. Consider starting with a neutral background, then strategically adding elements that suggest your authority on the topic.
Krafts by Kaitlyn uses an aesthetically pleasing arrangement of items behind her that suggest the types of things she will teach her viewers to create.
Cost: Can be assembled with items you have around your home or workspace
Best for: Themes or how-to niches
4. Hanging Frame
While you can pin your backdrop to the wall in a pinch, using a frame gives you a more professional, wrinkle-free appearance and the option to add extra elements, like fabric drapes, to the frame. It also avoids damaging your wall or backdrop fabric.
The most popular YouTube video backdrop frames are made from PVC pipe, but there are also models made from wood and metal.
Cost: About $20 for PVC Pipe, more for wood or metal
Best for: All niches; portability
5. The Office
Often overlooked, an office setting is a perennial favorite of YouTubers, especially those in the personal finance or self-improvement niches. A clean, modern, well-decorated office conveys a sense of accomplishment and authority, making it a popular background.
If using your own office (at home or work) make sure the space is immaculate and you have permission from your boss if necessary.
Cost: Free if you already have a home office setup
Best for: Finance, education, self-improvement, organization niches
Inexpensive Backdrop Ideas
6. Hanging Sheet
A hanging sheet is one of the most popular YouTube backgrounds and also one of the least expensive. Most people have neutral-colored sheets somewhere in their home.
If you are going this route, make sure your sheet has no obvious holes or stains. Iron it so it will be wrinkle-free. We recommend a neutral background like gray or beige, but some YouTubers prefer a bright pattern to introduce a little bit of visual interest.
You can hang the backdrop with hooks, as we discussed with hanging fabric above, tack it to the wall if it is lightweight enough, or use a background frame. Check out this hanging sheet from Jade Louie Designs.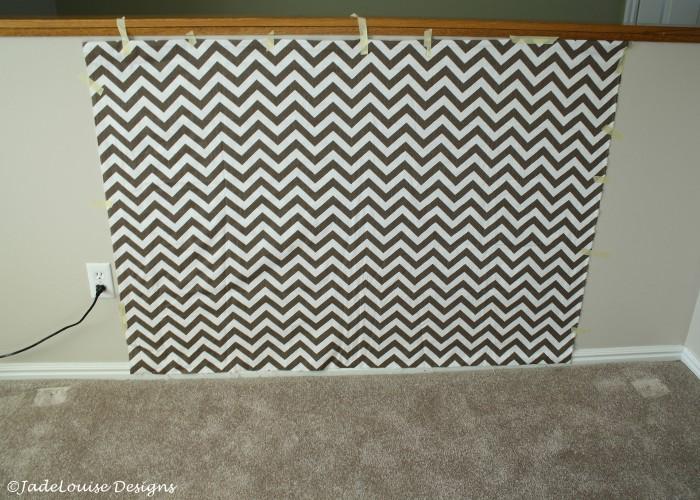 Cost: Inexpensive, plus whatever hanging method you choose.
Best for: Portable studios, multipurpose spaces.
Popular DIY YouTube Backdrops
7. Paper Flowers
They take some time, but tissue paper flowers can make an impressive background with a bit of patience. This example from Lovely Indeed is easy enough for anyone to do and can be configured in multiple ways. Plus, they are easy to change out for different color schemes and themes.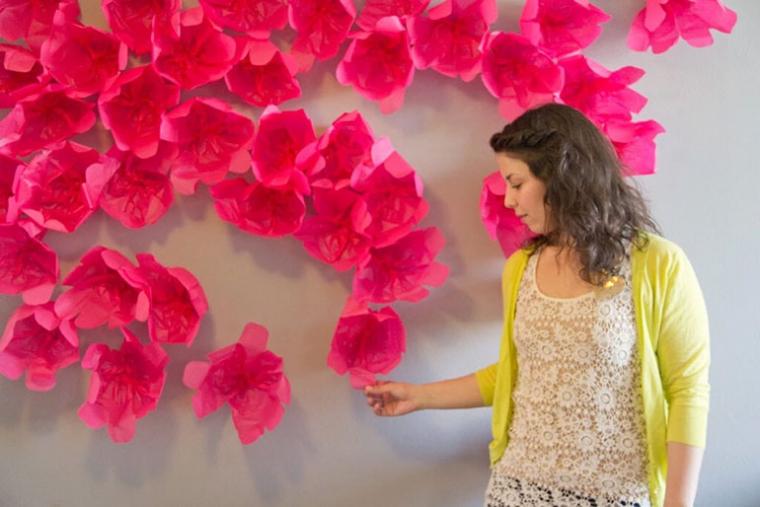 Cost: Under $20
Best for: DIY, beauty, lifestyle, cooking niches
8. Christmas Lights
No list of YouTube video backdrop ideas would be complete without Christmas lights. Easy to hang, inexpensive, and texturally interesting, string lights are a good way to add some depth to your video backdrop quickly and easily. This example is from Rooney Photography: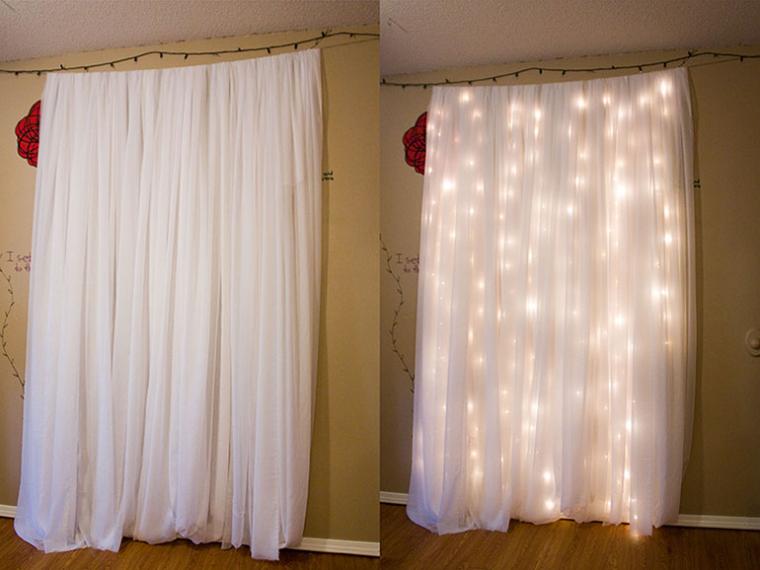 Cost: Under $50
Best for: Any backdrop needing extra dimension
9. Coffee Filter Backdrop
Similar to the tissue paper flower backdrop, coffee filters can be used to create a 3D backdrop. Even better, they can be dyed different colors for an interesting gradient effect. While a coffee filter garland won't last indefinitely, they are easy and inexpensive to create.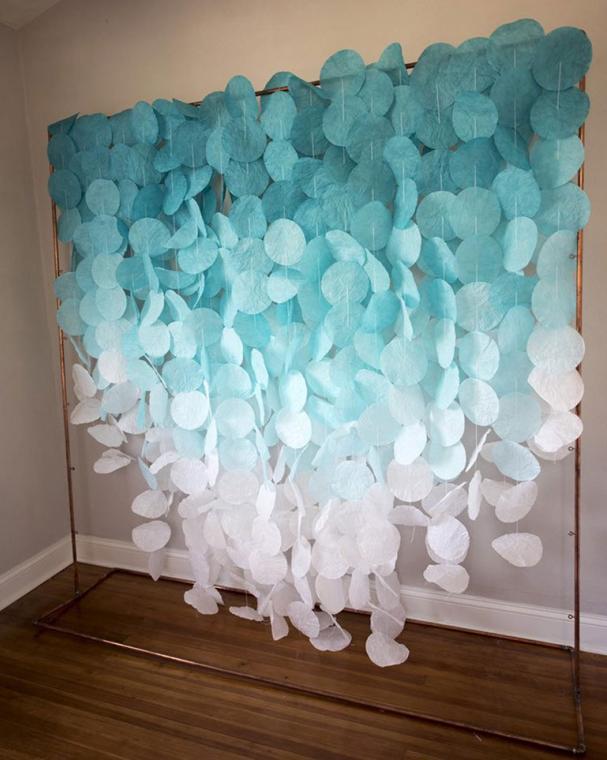 Cost: Under $10
Best for: Special color schemes
10. Newspaper Backdrop
Another innovative DIY YouTube backdrop reuses newspapers. These are taped or tacked to the wall to create an interesting, but neutral, backdrop for the YouTuber.
If you are concerned about damaging your wall, you can attach the newspaper to a large piece of poster board instead. This also allows the backdrop to be stored away.
Cost: Free
Best For: Creative niches; news and current events; education videos
11. DIY Painted Canvas Backdrop
Canvas drop cloths can be purchased inexpensively at local home improvement stores, and then painted with a roller or brush. You can opt for a solid color or an abstract design.
A hand-painted canvas offers lots of room for creativity and customization and is affordable enough that you can make more than one. We recommend hanging canvas from a frame. This example is from The Broketographers.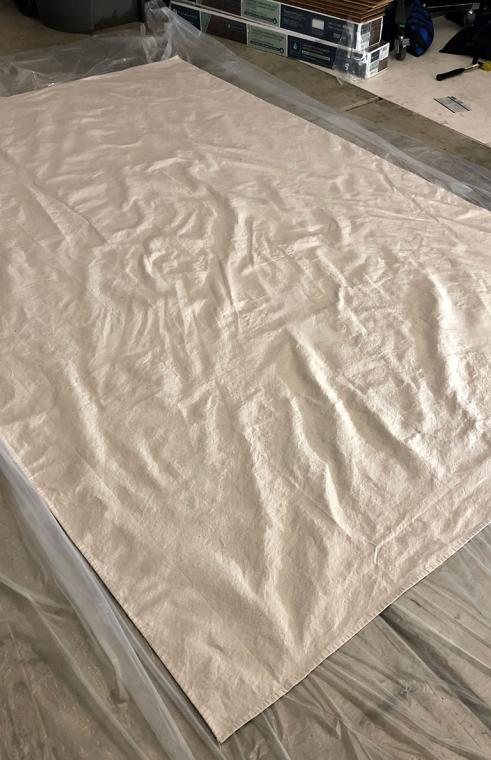 Cost: Around $100
Best for: Those with some artistic skill
Specialized Backdrops
There are many backdrops made specifically for video use. Here are some of the best for YouTube:
12. Simple White Backdrop
This makes the videographer pop on camera and provides a good background for props. This example from Limo Studio just needs a backdrop stand to hang it.
Cost: Around $35
Best for: Simple backgrounds
13. Portable Green Screen
With a portable green screen, you can customize your backdrop during the video editing phase to include other videos, still photos, or even just cover up an unattractive room. This portable green screen is collapsible and attaches to the videographer's chair, so you can set up your YouTube filming studio wherever you happen to be.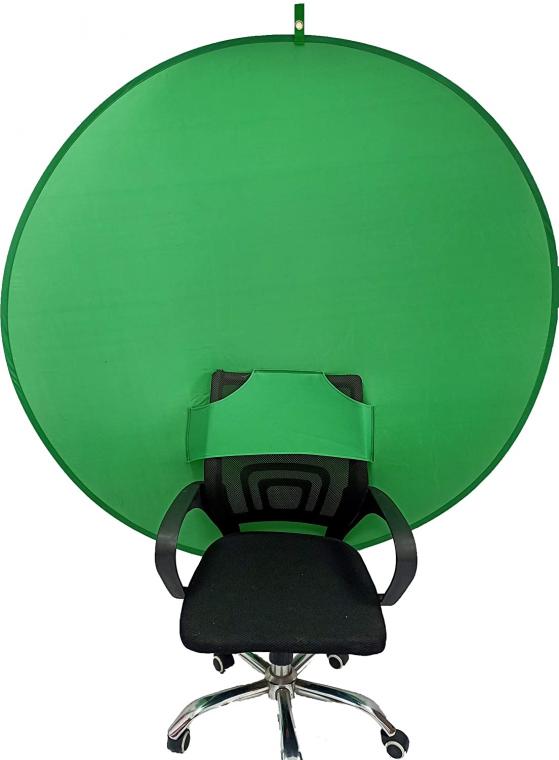 Cost: around $40
Best for: Including video and photo backgrounds
14.Vinyl Backdrops
Vinyl backdrops can be a bit easier to stretch flat than fabric. They can be hung from your wall or from a frame. Vinyl backdrops are usually designed around a gradient, which centers the lightest shades in the middle of the backdrop. This draws the eye toward the speaker. You can also find vinyl backdrops with unusual patterns, like tie-die or logos.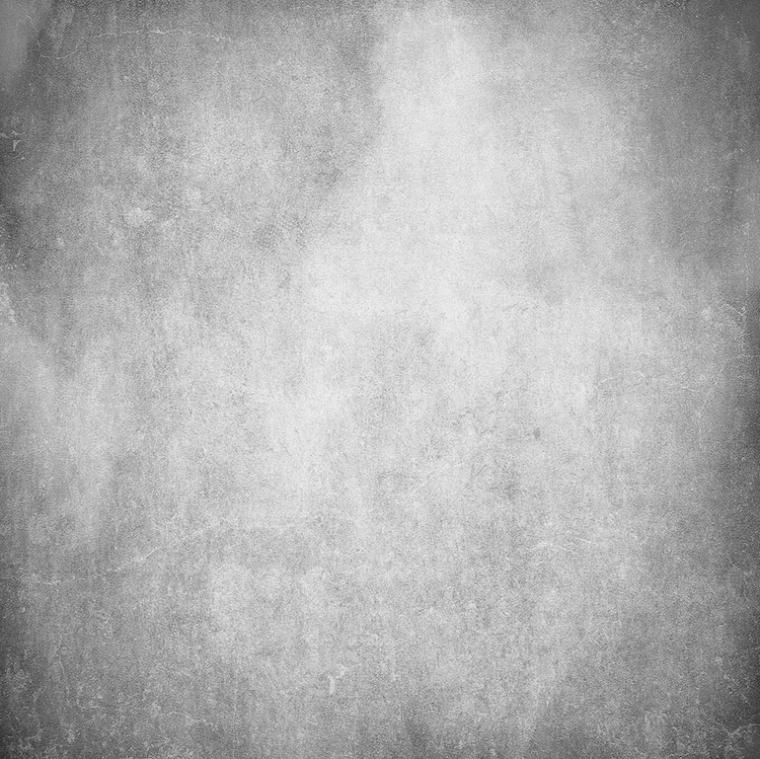 Cost: Varies, around $50
Best for: Reviewer channels, unboxing videos, professional niches
15. Custom Banner
If your brand has a logo, consider ordering a custom background with your brand's logo and name on it. This can make a good YouTube video backdrop because it reinforces your branding.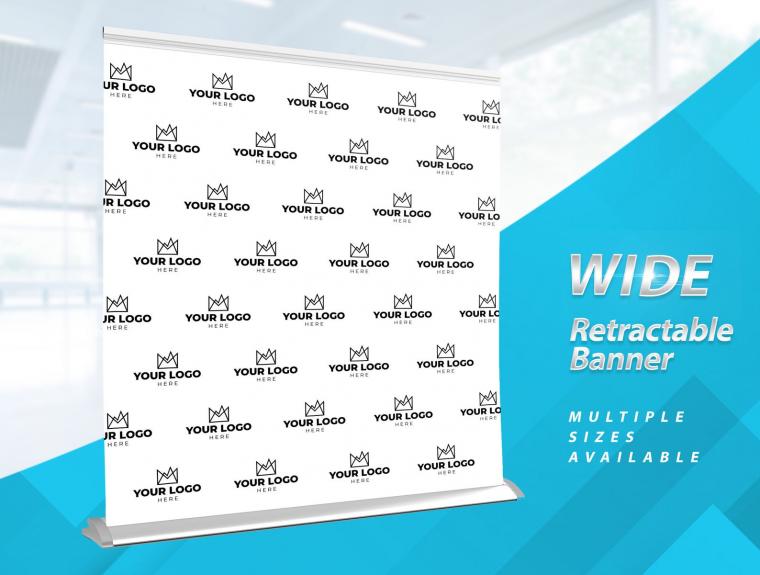 Cost: $200+
Best for: Businesses
16. Sequin Backdrops
Sequin backdrops can actually look quite natural when used correctly. The sparkle adds additional dimension to your backdrop. Choose smaller sizes of sequins so your lighting doesn't reflect strangely during filming.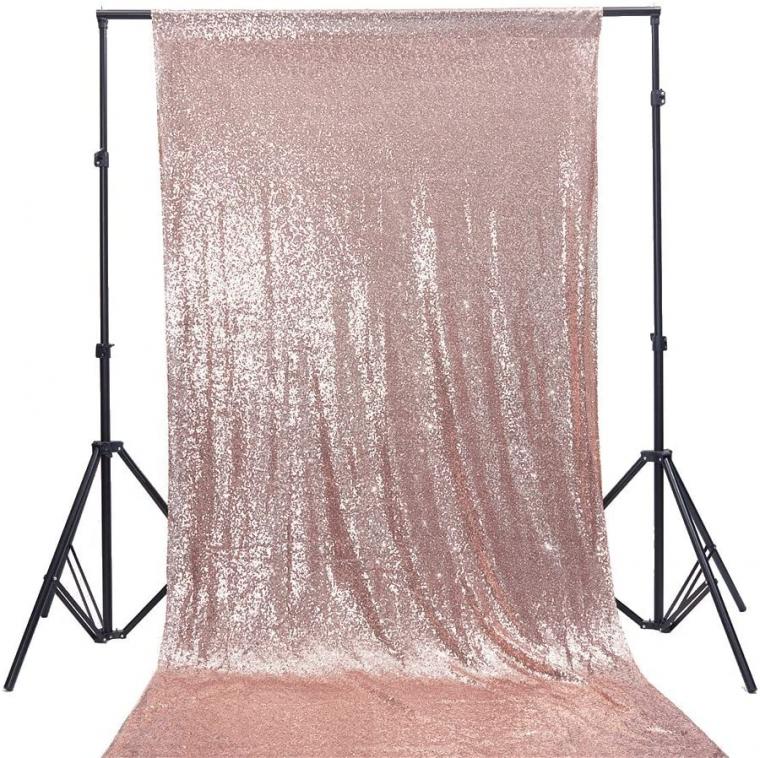 Cost: Around $20
Best for: Beauty, fashion, shopping niches
Unusual Backdrop Ideas
17. Artificial Flower Wall Panel
One creative backdrop is an artificial flower wall. Available from sites like Etsy, this backdrop lends a maximalist vibe. A monochromic or gradient color scheme can keep the backdrop from being too busy.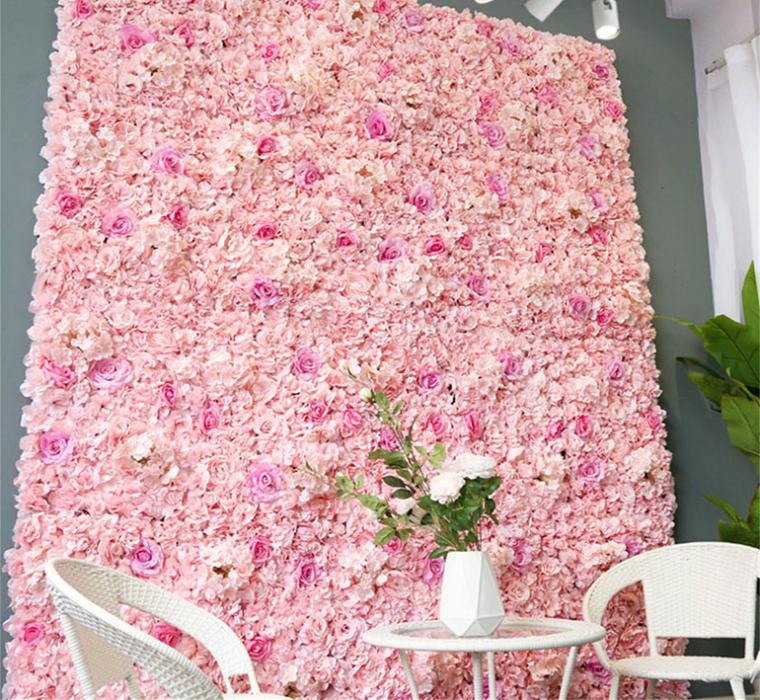 Cost: Around $50
Best for: Strong impressions, creative niches
18. Combine Multiple Backdrops
While this approach takes additional filming and editing time, some popular YouTubers use a variety of backgrounds and create a montage effect in their videos.
Check out 5-Minute Crafts, one of the most popular parenting and family accounts on YouTube. They use a combination of several of the backgrounds we already covered, from a solid piece of white or teal posterboard to outdoor nature backgrounds.
Cost: The combined cost of all individual backgrounds
Best for: Those with some advanced video editing capability or those wanting to do a montage-style video
19. DIY Wooden Backdrop
If you're handy, you can build your own freestanding wall to serve as a YouTube backdrop. This has the benefit of durability. Unlike paper backgrounds, you won't have to redo this one for a while.
This lets you take advantage of the natural lighting outdoors while still having a neutral backdrop and blocking out anything distracting in your backyard, balcony, or wherever you are filming. This backdrop is best if you have a dedicated filming space where you can store the backdrop indefinitely.
Cost: Dependent on price of wood
Best for: Outdoor filming, home studios, those with woodworking skills
20. Chalkboard YouTube Backdrop
Use a chalkboard or whiteboard as your YouTube backdrop gives you the ability to change it up with each video, simply by drawing a new design. This is great if you're good with letter art as well. If you don't want to purchase a whiteboard or chalkboard large enough, consider painting one wall in your home with chalkboard paint.
Cost: About $40 for paint
Best for: Those with artistic or lettering skills.
21. Balloons
Eye-catching, readily available, and universally associated with fun and happiness, balloons make a great addition to your YouTube backdrop. Notice how this YouTuber is simply using a blank wall, but the balloon arch immediately grabs attention.
It may take a bit of time to attach all the balloons and keep in mind that you may only have a few days before they begin to deflate.
Cost: Under $10 for balloons
Best for: Positive messages
Final Thoughts
While you can start your YouTube channel with just a blank wall or your bedroom in the background, putting a little thought into your YouTube backdrop allows you to catch viewers attention, build your brand, and make your videos stand out in the crowd.